So this last 3 weeks has been extremely hard on my family. I should start doing those Pour Your Heart Out Wednesdays...though I am not ready to post what is going on, and not sure I will be...I am going to stay positive, I noticed a few of the blogs I read do the Thursday 5 over at
*Flip Flops & Combat Boots*
as I read more into it...it seemed like the perfect thing for me to do! So here goes me trying to be positive!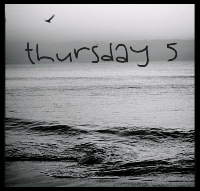 Blessed
Incredible
Productive
Happy
I feel 
Blessed
to have such a supportive husband and family. No matter what I do, no matter how bad I screw things up, they are there to help me laugh it off...and its the same for everyone else in our family.
I thought I felt the baby move the other day while I was laying in bed...and though I wasnt sure if it was real or not since I havent felt it since, its absolutly
Incredible
to know I have such a precious little blessing in my tummy!
The short 2 months I have been back at home, I havent felt up to doing anything...now all I want to do, now that I am starting to get my energy back is do LOTS of things! Going to my Grandma's today to learn to crochet a blanket. So just for wanting to get up and do things leaves me feeling very
Productive.
Though I cannot say what it is, I have found the perfect suprise for my husband for his 24th birthday! So though its hard for me to keep my own secrets I am going to keep it. I feel very

Elated

about the whole thing!

Although right now I am finding a few things to be happy about...I did get to skype with Hubby yesterday and his interpitation of showing me how the baby is in my belly, also the time he re-inacted birth for me, puts the biggest smile on my face. He makes me truly Happy