So I havent done one of these before, but given the re-vamp of my blog and all I figured I should do more link-ups! So here it goes!!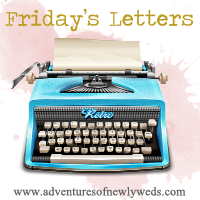 Dear Friends,
I know I am sucking at being a friend..but so are you.
So I dont feel too bad.
I am leaving soon...so if you choose not to see me, that's ok.
Dear Blog,
I love all your cutness!
Dear Dad,
Loving all this time with you..but you could love it back too.
This not talking thing is so you, but I miss you.
Dear Mom,
Stop stressing yourself sick.
Your doing it.
Dear lil' brother,
grow the eff up.
Dear Evelyn,
SLEEEP!!
Dear Husband,
I miss you!